SURFACE ATMOS-PLASMA CLEANER for COG (TAB)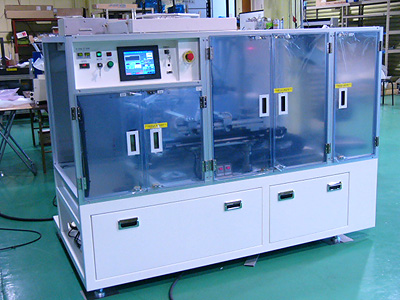 濡れ性,密着力の向上。 Improved cleanliness and adhesiveness on surface.
使用するガスは窒素のみ。従来のアルゴン、酸素ガスは不要。照射時のみ窒素を使用。
Only N2: the gas used. Past argon and the oxygen gas are unnecessary.
Only when irradiating it,N2 is used.
温度によるダメージは無し (Max60℃以下) No damage by the temperature.
マスク不要。 Mask not required.
枚葉処理I。 In-line single processing.
品種設定対応。 Excelent modification.
処理速度 : 50mm/1.5sec.
8.4 〜21" (2辺処理);; Tact 30sec. 25" (2辺処理);Tact 35sec. 
PLSAM-HAED Type

50mm(標準)。  別途;高速仕様75mm

175V : 50KHZ.:500W

装置寸法 dimensions

1850 mm (width) x 1125 mm (depth) x 1350 mm (height)

設置条件

Operating environment

Temperature: 20-35℃, Humidity: 85% or lower

No dew condensation

塗装色Paint color

N-8.0 1.5 lusterless

ユーティリティー

Utility

電源Power source

3φ 3W AC200/220 V 13A

エアAir

5 kg or more 50 L/min

窒素N2

10 L/min (of 99.9% or more in purity)

冷却水Water

2 L/min (City water)

オプション

Option

N2発生器(7 kg or more 131 L/min)SLN-444T

Cooling machine
LD&端子洗浄付き装置もございます。 There is a device with the Ld & the terminal washing,too.