Multiply, founded in March, 1991, puts its focus on the ultraviolet technology business, not only manufacturing the ultraviolet equipments for various purposes such as UV curing and ozone cleaning, but also providing some labor-saving and automatic machines. Among our products, the software and hardware products about ultraviolet application won a rather particularly high reputation for us from other companies in related fields.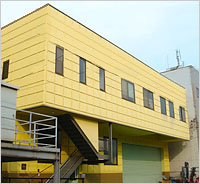 ■Company name

Multiply co.,ltd.


■Head office and main factory

4-3-47 Kami-higashi Hirano-ku Osaka Japan
zip code 547-0002
TEL +81 (6) 4303-9000
FAX +81 (6) 4303-9013


■Capital

17,000,000 yen


■President

Yasuhiro Miyake


■History

The company was founded by president Miyake in March 1991, when it was located at North-ku, Osaka.
The head office and main factory were moved to Izimi-cho, Yao city of Osaka, in November 1991.
The head office and main factory was moved to Heino-ku, Osaka in June 2006.


■Bank account

Awa Bank Osaka branch
Bank of Tokyo-Mitsubishi UFJ Abenobashi-nishi branch
Sumitomo Mitsui Banking Cprporation Yao branch
The Osaka City Shinkin Bank Kami-naka branch


■Primary business

* UV curing system(UV application system)[imprinting, adhering, printing]
* Cleaning and reforming equipments, UV ozone system, UV excimer equipments
* Atmospheric-pressure plasma cleaning system
* Sterilizing system
* Ionizer system
* Design, manufacture and sales of automobile and labor-saving equipments


■Main clients

(Japan)
Matsushita Electric Industrial Co., Ltd.
Mitsubishi ElectricCorporation
OMRON Corporation
Nichia Corporation
Sumitomo Metal Industries, Ltd.
Toshiba Matsushita
Display Technology Co., Ltd.
SHARP Corporation
HOSIDEN F.D.Corporation
Takatori Corporation
ROHM CO,.LTD.
IMURA ENVELOPE Co.,Inc.
Nissha Printing Co.,Ltd.
Others

iOverseasjiTaiwan, Chinaj
AU Optronics Corporation
InnoLux Display Corporation
Inncom Technology Shen Zhen Ltd.
Chi Mei Optoelectronics Corp.
Digital Decade Limited
Loctai Enterprise Co.,Ltd.


▲